Young Carers in Lockdown
---
As part of Carers Week 2020 earlier this month, we asked our Young Carers to send in photographs of themselves during lock down. They have been a busy bunch. Camping in the garden, going on lots of walks in the beautiful Derbyshire countryside, baking and making, gardening, and zooming on their online video calls. Thank you to everyone who sent in a photograph. We love to see what you've been up to.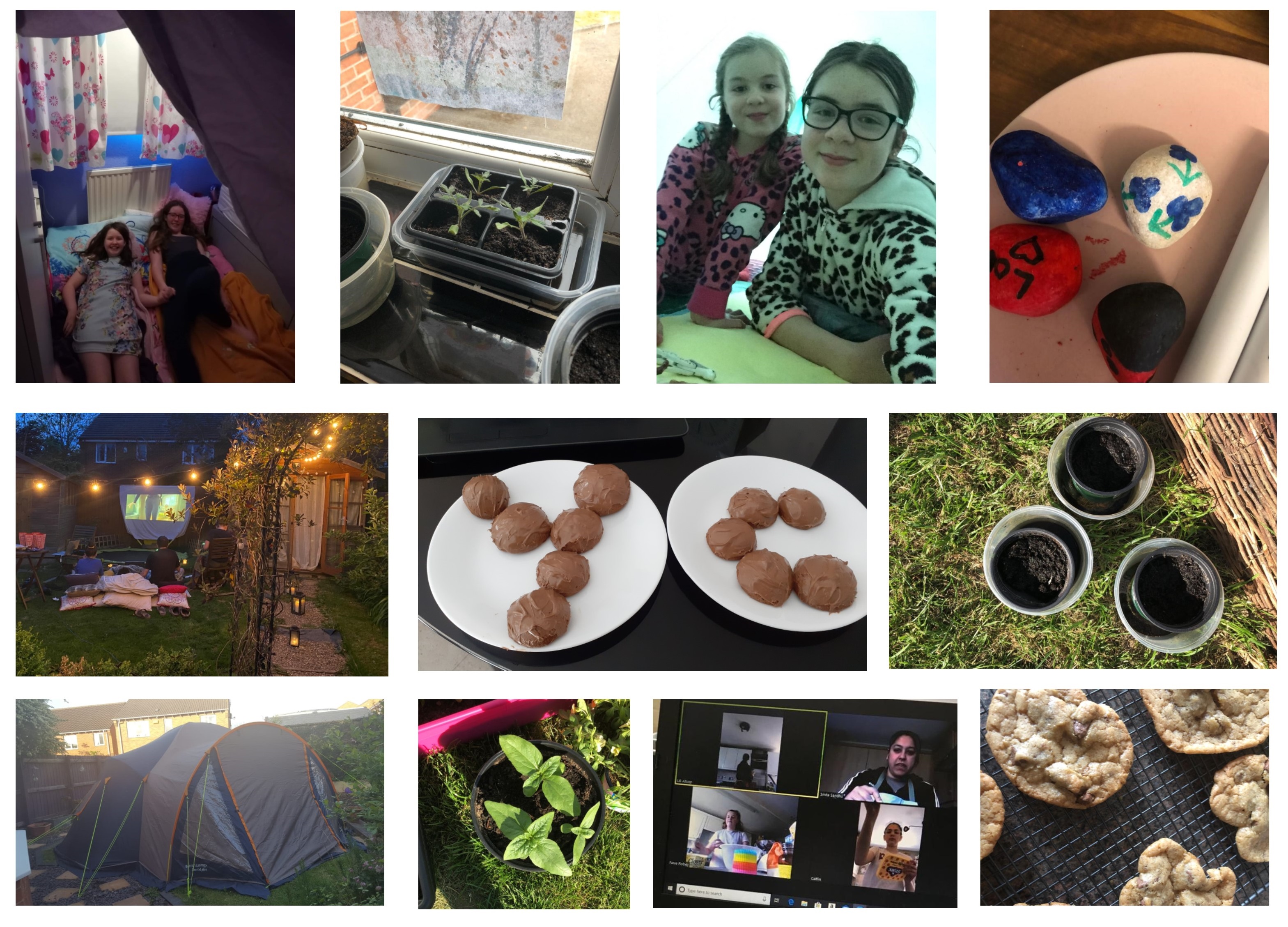 We also asked some of our Young Carers what life has been like for them during lock down in a short interview.
Interview 1
J is a 10 year old female whom cares for her mother. Her mother suffers from Borderline Personality disorder and has extreme anxiety which has lead to her being housebound. Mum has also self-harmed in the past and attempted suicide. In the household there is only J and mum there is no internal support networks as mum is not in touch with her family. J does spend some time with her dad but this is irregular. Therefore, J is carrying out all the care for her mum and has no support from family. The main types of care J carries out is general care, supporting mum to be able to carry out domestic jobs and providing significant emotional care. J supports mum physically and mentally to leave the house to do shopping as well as keep an eye on mum, motivating mum and ensuring that mum is okay. J states that she spends a lot of the time with mum when she is not at school and that she is not able to play out as much due to her caring role. The only time J is able to have time for herself, to socialise with friends and to partake in activities she enjoys is when through school where she currently has violin lessons and football training weekly.
However, due to the lockdown restrictions J is unable to partake in these activities and managing completing school work at home whilst carrying out her caring role. An interview with J expresses her opinions, thoughts and views upon the lockdown period.
What has life been like for you during lock down?
'Different. Like its sad not seeing my friends a lot anymore. I really miss them, like I haven't seen my best friend in so long. We still talk on fortnite but it's not the same. It's been stressful as well.'
What has made it stressful?
'I want to go places but I can't I want to go see my friends and go out and play on the park with them but not allowed.'
Has your caring role changed due to lockdown? Has anything changes? Are you doing more or less? Doing different things now?
'I help more around the house. Like now I love hoovering. I do all the rooms all the time. We have a new hoover. It's the same one that my dad has just a different colour so I know how to work it. It's so cool. Mums a lot better she is seeing a therapist I think now so she is a lot happier most days. I like it I don't worry much now because I know she will be okay, she has someone now like I can talk to you about me she can talk to her person.'
How was things with you and your mum before lockdown? How are they now? Is there any difference?
'were so much closer now were a lot better. Yeah we spend more time together now which is great and we get to do more things together.'
What things are you doing together?
'we colour and make things together. We go on walks every day which is the best when I can take my football with me. Like the other day we walked 7.6 miles it was such a long walk but it was so fun. We like to cook dinner together mum is making proper dinners. I help her too, I'm the best at making mac and cheese. It is amazing, obviously mum does the kettle and oven and that because I can't use it.'
What do you think you'll be doing differently after lockdown has ended?
'Well I want to go back to football but don't think it will be soon, it's too many people too close together. Now I play more on the trampoline I learned how to do a front flip on it. A first I think when it goes back to normal it will be well weird. Well school won't be normal. But I want to carry on walking with mum it makes her happy and I like going out the house but I guess when I go back to school can only walk at the weekend.'
How are you finding school work?
'It's very different, I want to go back to school but mum said I can't but I know why we talked about it and I understand, I miss my friends and my teachers. But I like doing it at home its better. Like no distractions and I do it in my own time so it's good.'
What did Derbyshire young carers do to help?
'Yeah, you have really helped me, and you sent me them pack the other week. That was such a surprise I love the white board I used it to draw, help with school work. I learned my timetables on it the other week. I used it to write down how I feel and things that I have done so I can tell you when you ring me. I like it when you ring me, we have good chats and you listen and will help me when I feel down and worried. You help me and mum and I like it when we have our calls on the phone because it's something different and it's really nice and helpful'.
How do you feel that the support Derbyshire young carers gives you has changed from the support before lockdown and the support today? How do you feel about it?
'Before you would come to school or at home we will be able to talk and do more than over the phone. But over the phone we still talk about everything like we did at school. We talk about everything and you always help me. We just do more activities in person.'
Once interview had finished with J, mum wanted to add some comments regarding their lockdown experience.
Mum stated that mum and J do have a little arguments but they are nothing like they use to be. Mum mentioned that they may have little disagreements but have worked out a way that is best for them both to calm down and then come together to resolve the issue. Mum said these disagreements grow from frustration regarding lockdown and J not being able to play and socialise with her friend next door or go play football on the park. However, mum states that the lockdown has presented a very positive impact upon mum's mental health. She stated she is feeling 'the best I have been in years, I still have my up and down days but now I am leaving the house going on scenic walks I still don't go to the shop but the walks I love and J loves them too. They have helped us through lockdown, it gets us out the house and a time to spend more time together in a different environment, it helps with our little arguments but it has also helped J to open up to me more we have such better relationship now we are so much closer and able to talk better. I think lockdown did help that but then work you have done with J and me about talking to each other and sharing worries started us being closer and being able to talk.'
J shown below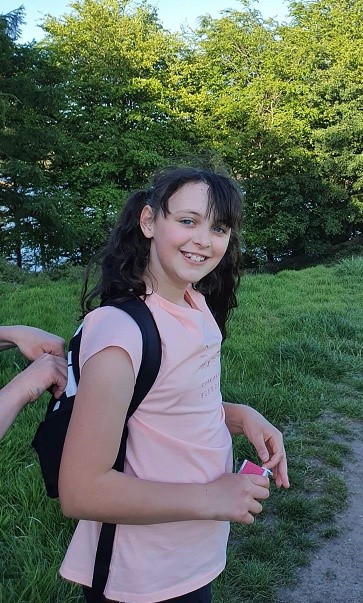 Interview 2
Penny is 11 years of age and is a young carer for two parents who are visually impaired.
This is all she has ever known since birth.
Penny has been unhappy at times and not liked life in Covid and the effects it has had on her. She has not been able to see anybody which has left her lonely at times. She feels everything is the same. When she does school work she just sits in front of a computer screen and finds it boring without the interaction that school brings.
Penny was due to have an operation on her teeth and braces fitted. This had to be cancelled and now Penny is in constant pain with her teeth.
She is generally with her parents all the time and her help can be called upon at any time of the day. When she attends school she escapes this.
She copes by going on her trampoline, her mum said in the background "it's been a god send" as she is full of energy. She listens to music, video calls her friends and plays games with her mum and dad. She has enjoyed spending more time with her parents at times but at other times too much time together can cause arguments.
When out of lockdown she can't wait to get back to school, see her friends, go to activities out of school and have her operation.
DCA have helped her by providing support. The support she gets makes her feel happy. She attends the online forum and really liked the package she received. She uses the white board and playdough every day.
Interview 3
What's life been like during Covid? How did you cope?
Lockdown has been alright, I have spent a lot of time with my family which I have really enjoyed. We have been able to have some quality time together which we haven't been able to do before because life can be so busy. Sometimes it has been tough as my brother sometimes cannot understand the lockdown. But I stay calm and support him. Sometimes he doesn't like to go out so I tell him it's alright this time, but you will have to do it one day.
What will you do differently after lockdown?
I will play differently with my friends in case that Coronavirus is still going around. I will be worried when my brother goes back to school as he will go back to normal with his friends and not be cautious.
What did DCA do to help?
They helped me cope through lockdown by having someone to talk to and talk how to cope with situations. Also they helped us get a new washing machine as our old one flooded our kitchen.
Interview 4
Kara Baker aged 11
· What is life like during Covid?
Life was okay I guess. I struggle with school sometimes so I suppose I didn't worry about having to go to school. I worried sometimes that something would happen to my mum and she would get ill.
How did you cope?
I spent a lot of time playing in my garden as well as walking my dog. I enjoyed walking my dog as I was able to think about things whilst walking and it really helped me relax. Although I care for my mum during lockdown I probably did less caring. Although I still helped my mum but because my dad wasn't able to work he was home too he looked after my mum and me. It was nice to spend time as a family as before when my dad was working we would never have had this much time together.
What will you do differently when out of lockdown
I would appreciate being able to see my friends and family as I have really missed them. I would still be worried about social distancing so I don't think I would like to meet friends and family at the local park. I feel I would do this gradually as I am still worried about catching Covid and passing it on to my mum. I have taken my friends and family for granted and I have missed them all so much. When things start to get back to normal I would love to spend time with my sister in Skegness as I usually go and stay with her during the summer holidays. I would love to go and see her when it is safe.
What did DCA do to help
Smita really helped she would make me laugh and sometimes we would play games. The funniest time when we played words with friends on my phone it was a little bit hard so my dad helped me play against Smita. It was really funny as Smita thought that she was playing with me. I have struggled going back to school Smita has helped and sometimes when I feel worried it makes me feel better as I know that she will ring me when I'm in school to check on how I am this really helps me feel less worried.
Interview 5
Lucy and Alice are sisters who care for their Dad Tim and are supported by their mum Sarah. During the Covid-19 pandemic, dad has undergone Chemotherapy treatment. This led the family to isolate before lockdown was announced and are still shielding to protect Dad.
Life for Lucy on lockdown has been very boring, as a family they have coped, but there have been more sibling arguments. Once lockdown is lifted and it is safe to do so, Lucy is looking forward to hugging her friends finally and being able to go back to school. The family have been supported by Derbyshire Young Carers throughout the pandemic by weekly phone support, and Lucy feels this support has been very good. They are receiving food vouchers, activity packs and have joined in with the forum.
Interview 6
· What is life like during Covid?
Life during covid was difficult at the start. It's gone on for so long me and mum have got used to it. I've been going out daily with my mum to walk the dog and we've been going to the supermarket for our weekly food shop. I have an uncle who lives several miles away, who hasn't been very well. Not being able to contact him caused me and mum to feel anxious as we weren't sure anything had happened to him. We've since found out he's safe and well.
· How did you cope?
Coping with lockdown hasn't been easy. The first few weeks were the hardest and the scariest. I've done all sorts of different activities and I feel like I've run out of things to do. I was bored. I've helped mum around the house and I've done a few craft activities but the best thing I did was dye my hair. It makes me look so different and I feel really good. At the start we watched the news every single day and it didn't help us to feel better so we stopped watching it.
· What will you do differently when out of lockdown
I'm looking forward to Lockdown coming to an end as I'll be starting college in September. I've been out of education for quite a while so this is a big step for me. I'm excited and can't wait.
· What did DCA do to help
DCA helped me and my mum so much. My support worker has done everything she said she would do. I've got my confidence back and I'm looking forward to the future. The food vouchers helped me and my mum so much as it's taken some of the pressure off us. DCA have made a big difference to me and my mum.
Thankyou
Chloe and her mum Tracey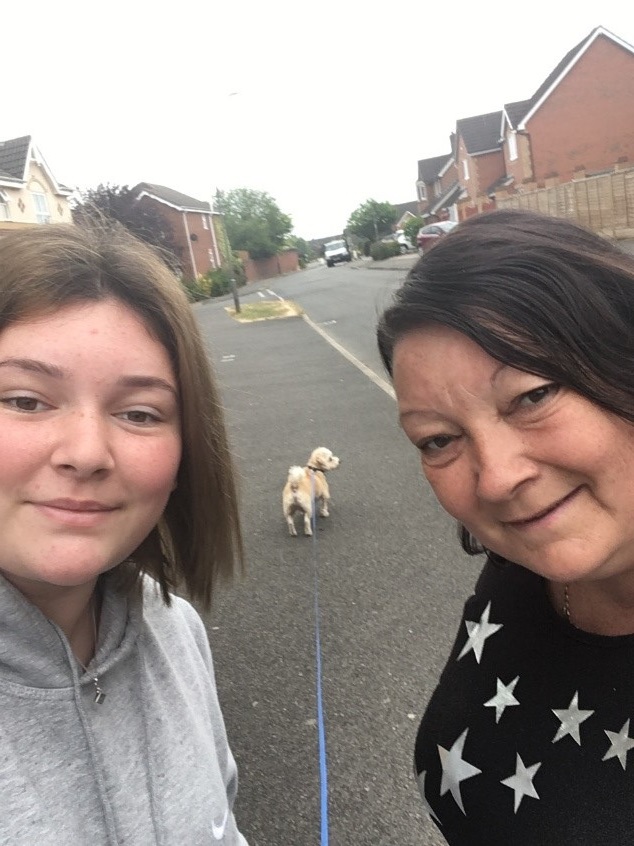 Thank you to all the Young Carers and their families who took part in the interviews. It's really interesting to find out how lock down has affected our young carers and their experiences.
If you're a Young Carer or someone you know is a Young Carer, support is available from the Young Carers Service. Have a look at our website www.derbyshirecarers.co.uk or email youngcarers@derbyshirecarers.co.uk for more information on the support we offer and how to refer a young carer to us.