Volunteers are invaluable and help us make DCA what it is. Without our current volunteers, we would not be able to fulfil our successful telephone befriending service and raise vital funds to support Carers.
We are looking for volunteers across Derbyshire to support our team out in the community, from home or in the office.
We currently have a range of volunteering opportunities available and we would love for you to join us. Below are some examples of the volunteer vacancies we have available
Event and Activities Volunteer

Telephone Befriending Volunteer

Young Carers Activity Volunteer

Community Fundraising Volunteer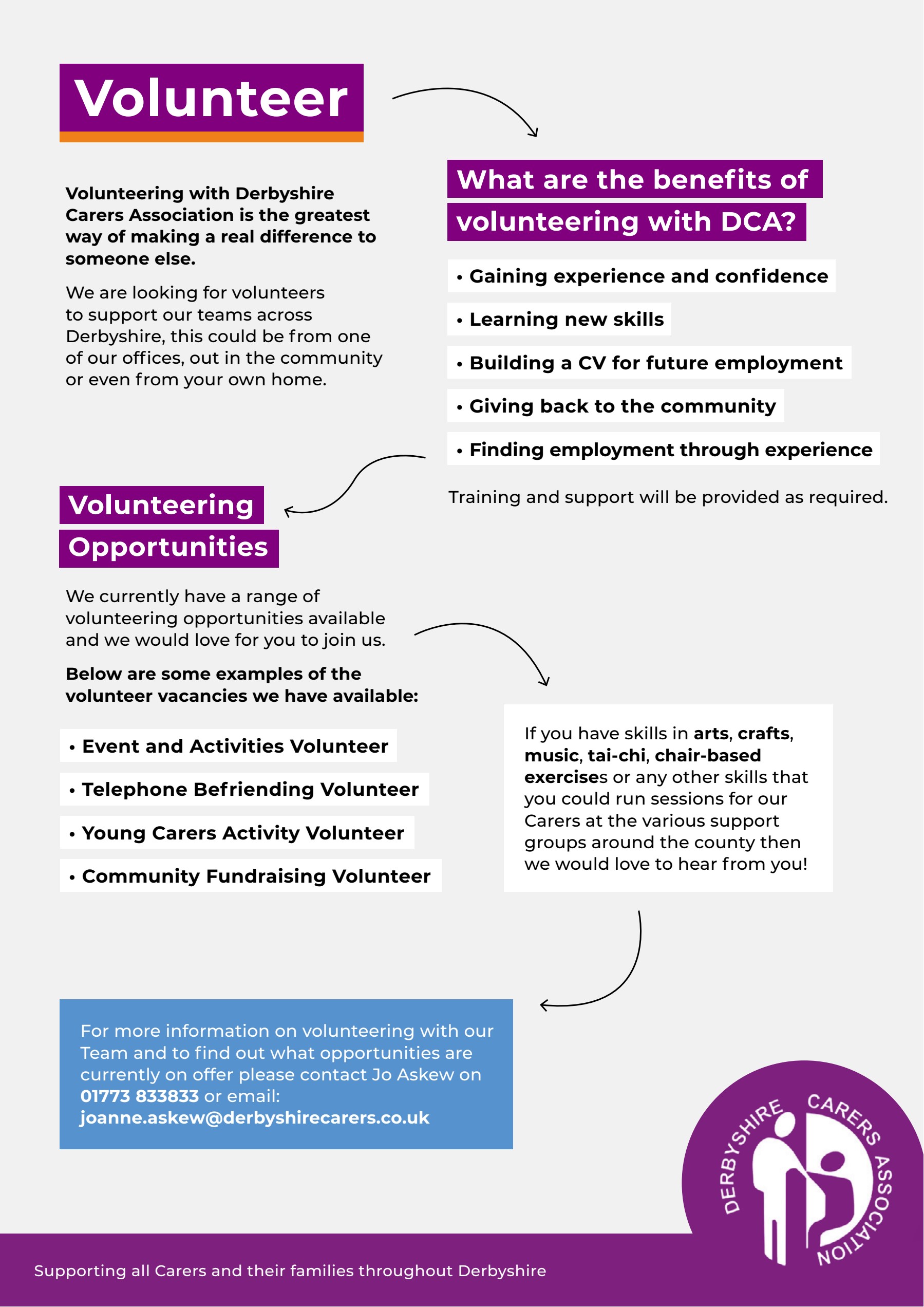 You could be helping with:

Assisting with support groups throughout the county. These groups are invaluable to carers giving them, what could be, a rare couple of hours away from home and the chance to talk to others in a similar situation. Tasks could include meet and greet, making phone calls to vulnerable Carers, helping to facilitate arts and crafts sessions or helping provide support at fundraising events.
Training and support will be provided as required.
If you have skills in arts, crafts, music, tai-chi, chair based exercises or any other skills that you could run sessions for our carers at the various support groups around the county then we would love to hear from you.
What are the Benefits of Volunteering with DCA?
Volunteers benefit from volunteering for DCA in many ways, for example:
• Gaining experience and confidence
• Learning new skills
• Building up a CV for future employment
• Giving something back to the community
• Finding employment through experience
Contact Us
For more information on volunteering with our Team and to find out what opportunities are currently on offer please contact Joanne Askew on 01773 833833 or email joanne.askew@derbyshirecarers.co.uk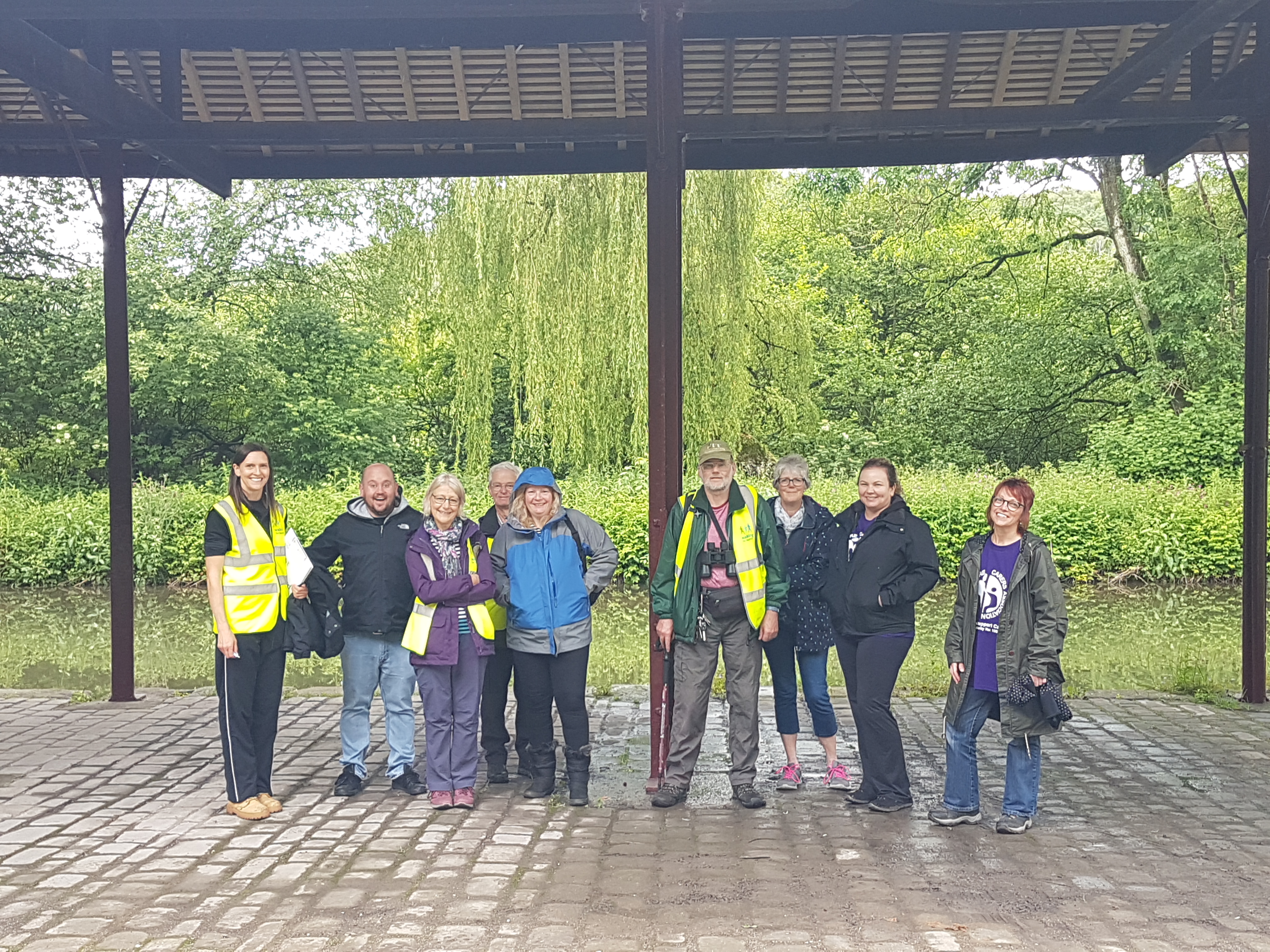 Volunteer Testimonials
Ashley Nicholson
"I retired 2 years ago and since then have been a volunteer 1 day a week at the Carers Centre. I have found the work most enjoyable and rewarding. Varied admin duties, covering many aspects make for varied days and occasional contact with Carers and a very pleasant mix of colleagues means Tuesday is the highlight of my week."
Mark Kettleboro
"I've recently worked with DCA on a work placement, part of the Jobcentre Plus' new 'Community Work Placement' scheme. The placement lasts for six months, up to thirty hours per week and is intended to help unemployed people gain experience and references. During my time here, I've found myself given a wide array of tasks, from simple office jobs such as shredding documents, to data entry, project development and computer troubleshooting. The experience I'm gaining from work is invaluable to my chances of securing paid work in the future. Aside from this, the office has a fantastic welcoming atmosphere to it. It feels more like a family than an office – with staff and volunteers getting along very well. It was a wonderful feeling to have been almost instantly absorbed into that atmosphere and I'd highly recommend DCA as a brilliant work environment for those looking for voluntary work. I'm very much looking forward to what the future holds for me here."
_We are delighted to announce that Mark has now found full time employment. We wish him all the very best and thank him for the time he shared with us. – DCA staff, Chesterfield offices